Hi Readers!
Tafcop is a portal launched by the Department of Telecommunications (DoT) in India to help consumers check and regulate the number of mobile connections working in their name. Tafcop stands for Telecom Analytics for Fraud Management and Consumer Protection. In this blog post, we will explain what is Tafcop, why it is important, and how to use it.
What is Taf cop portal?
The Indian government established the Digital Intelligence Unit as a central organization to look into telecom-related fraud. For this, it will work with several financial institutions and communications providers.
There is a system called Telecom Analytics for Fraud Management and Consumer Protection ,TAF-COP built for receiving complaints about unwanted commercial communications.
Tafcop is a portal that uses telecom analytics to detect and prevent frauds and protect consumers' interests. It allows consumers to check how many mobile connections are registered in their name, and take necessary action if they find any excess or unauthorized connections. Tafcop also sends SMS alerts to consumers who have more than nine mobile connections in their name, as per the existing guidelines of DoT.
Why tafcop.dgtelecom.gov.in portal is in news?
The tafcop.dgtelecom.gov in is made available to the public to reduce telecom fraud. The new regulation states that every customer may have up to nine telecom connections associated with their identification. There are additional regulations in tafcop dg telecom gov in. The requirement to telephone to confirm your residence information. The sale of pre-activated SIM cards is punishable by a Rs. 50,000 fine.tafcop.dgtelecom.gov.in built the login procedure (DoT).
Following a directive from the telecom minister, Ravi Shankar Prasad, the federal telecom ministry made the decision to install such a system.
At a high-level conference, the minister discussed ways to address the growing concerns of mobile phone users about unwanted messages through tap cop portal.
Also, SMS harassment related illicit loan transactions. The government's action aims to increase the security and safety of digital transactions.
How will the ordinary people get benefits from TAF-COP?
Users should visit the taf cop portal to study the rules and guidelines provided here as well as to take advantage of the numerous perks stated below.
Subscribers can utilize the tafcop dgtelecom to perform the appropriate steps: if they have more than 9 sim cards.
People will be able to view a list of the mobile numbers registered to their IDs via the TAF COP Consumer Portal.
You may trace SIM Card Connections connected to your Aadhar card by registering using your mobile number or OTP on the Tafcop DG Telecom Government Portal.
Telecom Analytics for Fraud Management and Consumer Protection is abbreviated as TAFCOP. The security against identity theft will be further tightened via the new tafcop dgtelecom.
Users can verify the status of their Sim cards by supplying the necessary information at tafcop dgtelecom.
Why is Tafcop important?
Tafcop is important because it helps consumers to avoid being victims of frauds or misuse of their identity. Some of the common frauds that can happen through mobile connections are:
– SIM swap fraud:
This is when someone obtains a duplicate SIM card of your number and uses it to access your bank accounts, OTPs, or other sensitive information.
– Call forwarding fraud:
Tap cop helps to diverts your incoming calls to another number without your knowledge and charges you for it.
– International roaming fraud:
Taf cop portal helps to recognize when someone activates international roaming on your number and makes expensive calls or uses data abroad.
– Fake KYC fraud:
Taf cop also guides to identify when someone uses your identity documents to get a mobile connection in your name and uses it for illegal activities.
By using Tafcop, you can check if any of these frauds are happening with your mobile connections and report them to your service provider or DoT.
What you need to do to check the mobile numbers associated with your Aadhaar number
The following are the steps to check the mobile numbers associated with an Aadhaar card on the government's tafcop dgtelecom:
Visit the TAFCOP Portal at https://tafcop.dgtelecom.gov.in

Enter the 9-digit mobile number in the input area on the webpage.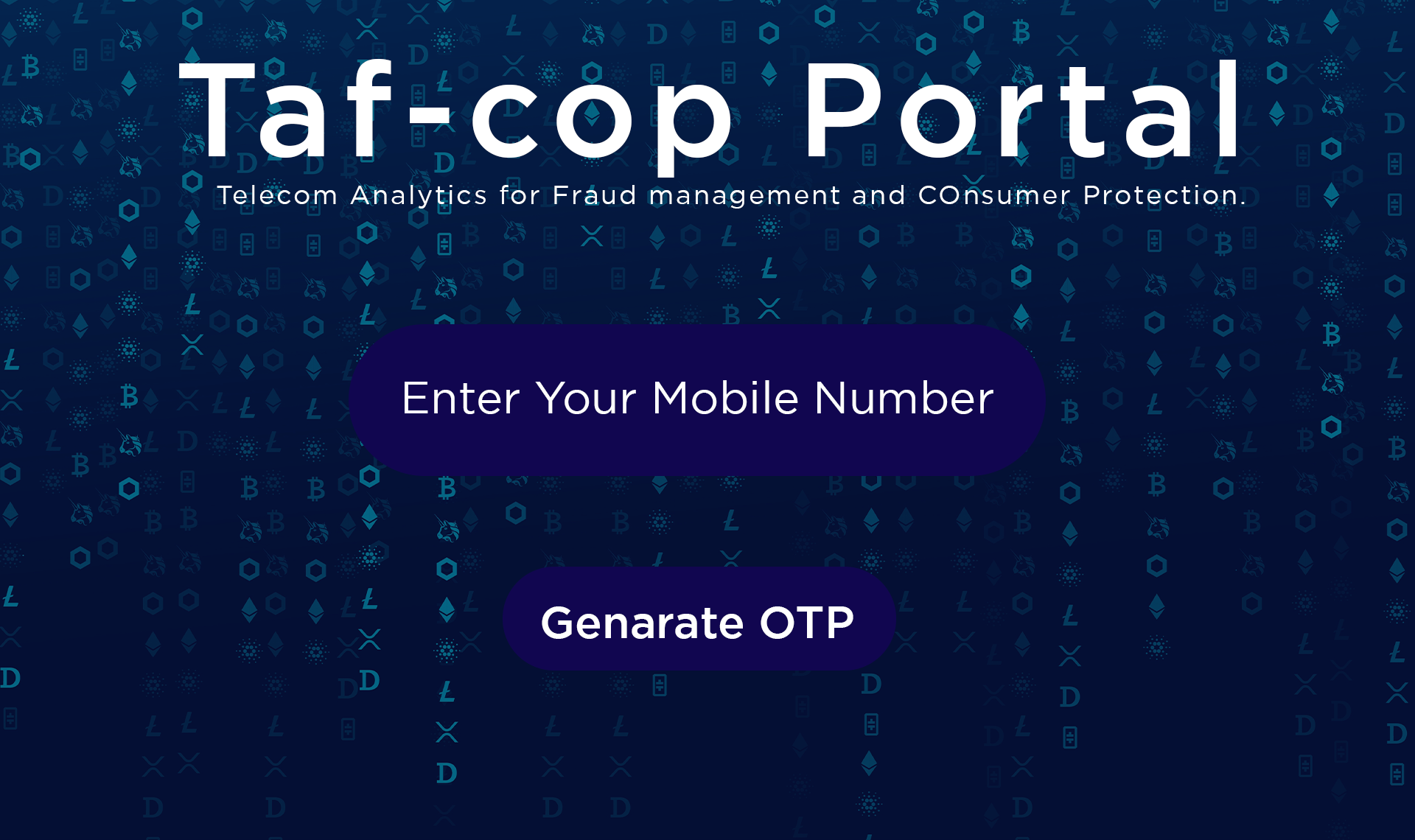 Generate an OTP.

Enter an OTP.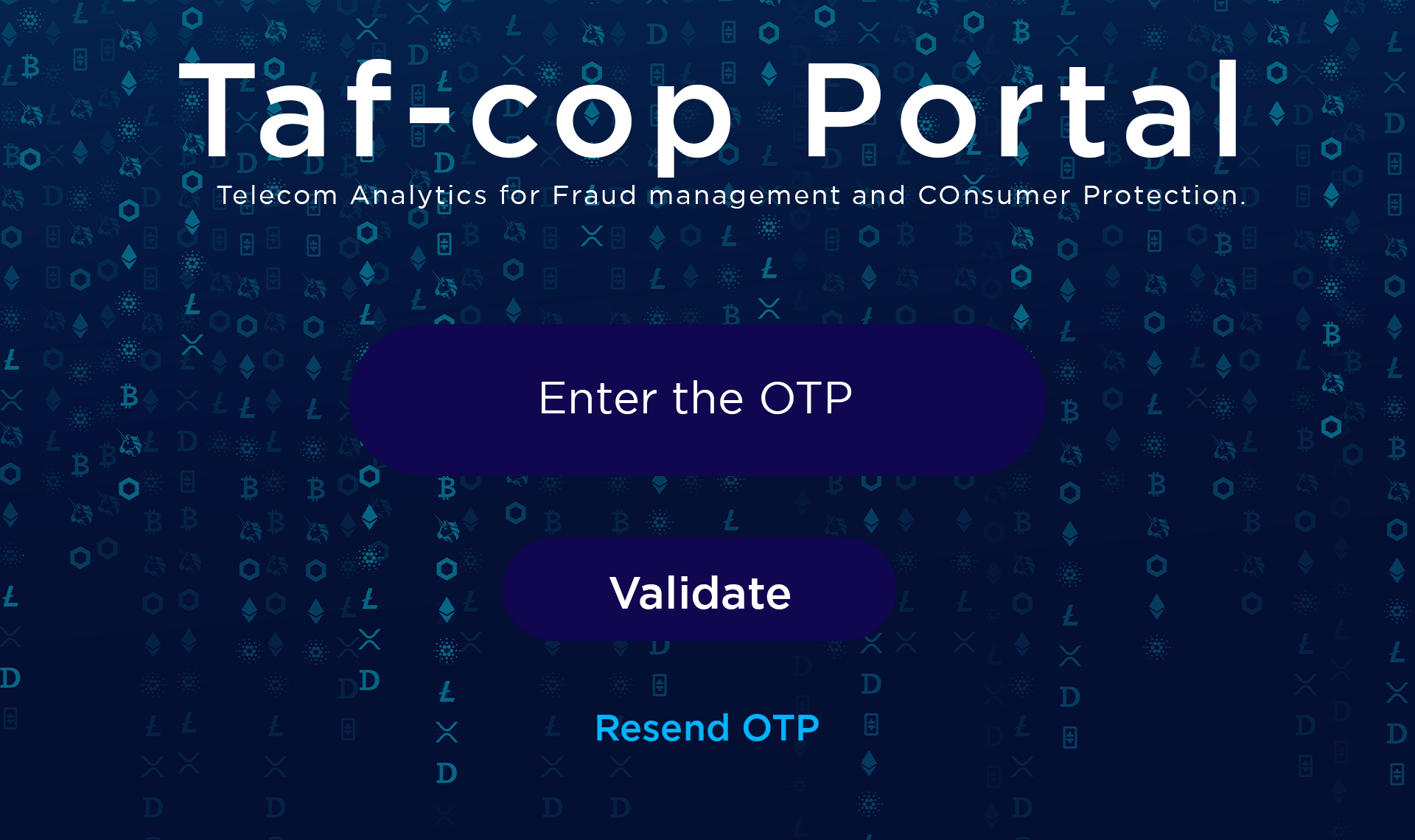 Click the

"verify" button.

Check the list of mobile numbers associated with your Aadhaar credentials.

You will soon get an OTP from DOT.
To login to tapcop dgtelecom gov in portal, enter the OTP and select "Validate".
You will be provided with a list of mobile numbers that have so far been associated with your Aadhaar credentials if the verification procedure is successful.
You can report any numbers listed under your name on the taf cop portal that you are no longer using.
• To report the number, simply click "This is not my number, Report This Number" after checking the box to the left of the number ". If you don't need a certain number, select the "Not necessary." "option.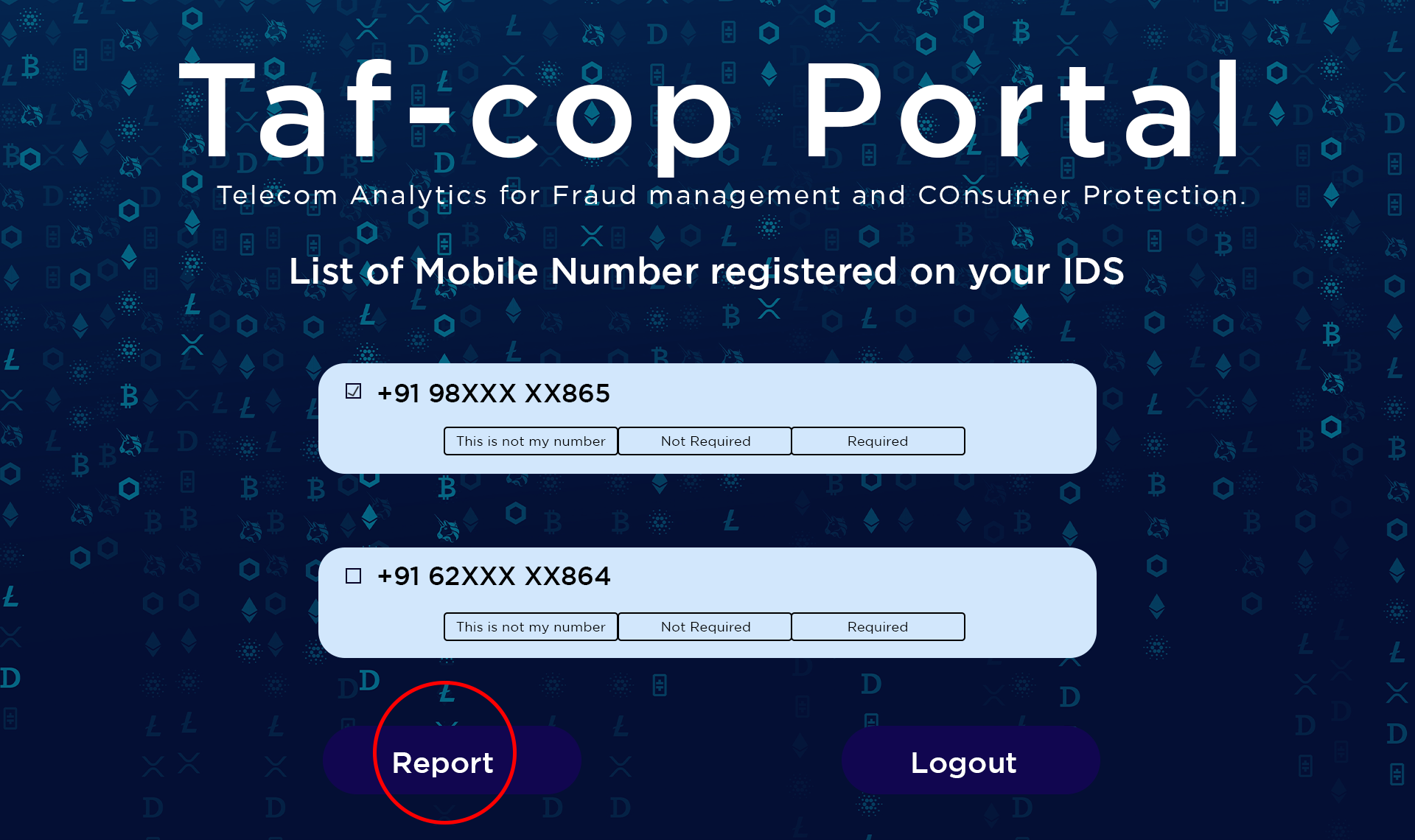 • The last step is to click the "Report" button.
Report button in Taf cop portal
If you find any excess or unauthorized connections in your name, you can click on the "Report" button and fill a form with your details and the reason for reporting. You will receive a ticket ID for your complaint, which you can use to track its status on the portal. You can also download or print a copy of your complaint for future reference.
Users can request for deactivation of any connection that you do not want to use anymore by clicking on the "Deactivate" button and filling a form with your details and the reason for deactivation. A confirmation SMS from your service provider once the deactivation is done.
Can you access tapcop dgtelecom gov in from anywhere?
TAFCOP portal is currently available only for consumers in Andhra Pradesh, Kerala, Rajasthan, Telangana, Jammu & Kashmir, Ladakh (Leh), Meghalaya, Tripura, Mizoram, Arunachal Pradesh, Nagaland, Manipur, Andaman and Nicobar Islands, Chandigarh, Lakshadweep and Puducherry. The DoT plans to extend it to other states and union territories soon.
How will TAFCOP reduce Cybercrime and fraud rates?
Unsolicited Commercial Communication (UCC) refers to any commercial communication a subscriber chooses not to receive. It does not, however, contain any transactional messages or messages delivered by instructions from the federal, state, or any other government-approved agency.
Tafcop dgtelecom gov in will reduce the number of telecom frauds through SIM access (Unauthorized).
In order to investigate fraud involving telecom resources, the agency will need to work with a variety of law enforcement agencies, financial institutions, and telecom service providers.
A system called Telecom Analytics for Fraud Management and Consumer Protection (TAFCOP) will also be developed at the license service area level.
To login with your number and enter the "Ticket ID Ref No" into the "Request Status" box, go to the official Tafcop Dg Telecom Gov In Portal.
Thus, the system would aid in boosting public confidence in the digital ecosystem, which will support the aim of Digital India.
Conclusion
Tafcop is a useful portal for consumers who want to check and regulate their mobile connections and avoid being victims of frauds or misuse of their identity. Tafcop portal is easy to use and provides timely alerts and information to consumers. It also helps DoT to monitor and enforce the guidelines for proper allocation of telecom resources by service providers. Tapcop is a step towards empowering consumers and strengthening security in the telecom sector. If you are a mobile user in India, you should visit the TAFCOP portal and check how many connections are working in your name.
To read more blogs, click here.