ISO 27001:2012 and ISO 9001:2015
Certified Company
IEMLabs
Proud Member of NASSCOM, DSCI, ICC,
U.S Chamber of Commerce and PRSI
IEMLabs
Accredited Training Centre
of EC-Council & CompTIA
IEMLabs
Cyber Security Courses and Services
Certification Courses
IEMLabs offer Certification Courses in different trending courses under the domains of Cyber Security, Networking. Programming Language etc. The experts offering the courses are working and have several years of working experience This helps to build more confidence to get a thorough grip of the courses
Software and Development
IEMLabs is best known for its innovative softwares that helps students and other professionals to make their work easy.Our software developers provide expert application development services to our clients.We are in constant growth by developing products like IEMSecure, IEM AI Writer and many more
ISMS/VAPT Audit
IEMLabs offers VAPT audits which are essential tools for ensuring the security of any organisation's IT infrastructure Vulnerability assessments help to identify potential security weaknesses, while pen testing simulates real-world attacks to determine how well a system can withstand a malicious attack
ISO Audit
IEMLabs offers Consultation & Implementation of ISO (International Organization for Standardization) 9001, ISO 27001 ISO 27701 to GDPR ISO 9001 targets compliance offers a logical and feasible app QMS (Quality Management System) to track all domains of a particular business & ISO 27001 focuses on Information Security
About Us
IEMLabs, a unit of IEMA Research & Development Pvt. Ltd. is an ISO 27001:2013 and ISO 9001:2015 certified company. The company was founded in 2016 by Mr. Satyajit Chakrabarti with the primary purpose of developing software. Later he teamed up with Mr. Hrithik Lall and Mr. Sovik Sinha Chowdhury, both BTech graduates to expand the mission with compliance service, corporate training, VAPT, and ISO-Audit. The company has a strong focus on helping small businesses and organizations improve their cyber security posture.With years of experience working with governments, law enforcement organizations, and businesses, IEMLabs Pvt. Ltd. offers IT security training. Over the years, we have seen a lack of skilled workers in the IT security sector. This institution aims to teach senior working professionals as well as new engineers in-depth knowledge of IT security.
Trending Courses
IEMLabs offers courses that help you get ready for industry demanding skills and become job ready.
What Our Students Say
"IEMLabs gives cybersecurity students a significant advantage. The teachers are also very kind to the students and create a pleasant environment for them."

"I signed up for an IEMLabs Kotlin app development course. The course had been meticulously constructed. Anubhab Sir was a fantastic teacher."

"It's an excellent place to learn about network security. The NPT course has proven to be really valuable. I am a college student, and it has greatly benefited me in developing this new skill and applying it to a variety of activities."

"Throughout my Machine Learning with Python direction session, I had a incredible mastering experience. IEMLabs' school is most of the best, and that they train the whole lot from the floor up."

"I learned a lot about ethical hacking, vulnerabilities, and penetration testing from day one. All of this was due to the support of the excellent teachers at IEMLabs. The learning environment at IEMLabs is excellent and all the instructors are warm and welcoming."

VISHWAJEET SHIVANKAR
Student

"It offers an excellent environment for academic progress as well as the acquisition of new skills and technology. I completed my JAVA training. It seemed far too good to be true. I plan to take the PYTHON class. I wholeheartedly recommend it."

"I had a great time studying at IEMLabs. All teachers are very competent and experienced in this area. The teachers have been and are a great help to me throughout the process. I recommend everyone to participate in IEMLabs."

"One of the best cybersecurity training colleges. I would advise any student interested in taking a course at IEMLabs to do so."

Compliance & Security Audits
Network Vulnerability Assessment And Penetration Testing N | VAPT
Web Application Vulnerability Assessment & Penetration Testing W | VAPT
Android Vulnerability Assessment And Penetration Testing A | VAPT
iOS Vulnerability Assessment And Penetration Testing I | VAPT
Data Recovery Services
Source Code Review | SCR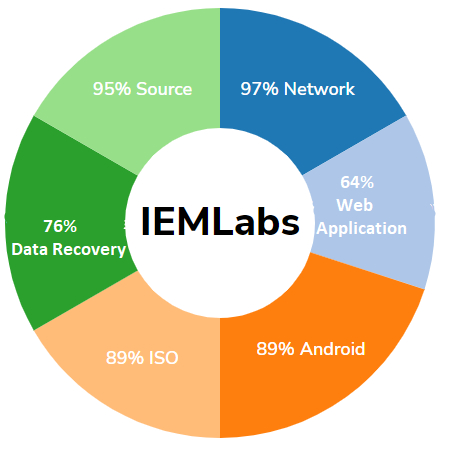 24/7 Security Operations Centre
You can secure your infrastructure with the help of our Security Operations Center by tracking and countering the incoming attacks Live.
Copyright @2022 IEMLabs. All Rights Reserved
Get in Touch To get Free Demo
We are available 24 * 7, Contact Us and Avail Exciting Discount Offers​