A website is an essential part of any business. It provides customers and employees with a single point of contact for information and services. Without a website, businesses would struggle to reach their target market. Also, employees would have difficulty finding the information and resources they need.
A website can be anything from a blog to an online store. To make money on a website, you need to have a product to sell or services to provide. People often build these sites with CMSs that allow them to add text and pictures themselves. A successful website will have engaging content and high quality, as well as regular updates for the user to keep coming back for more.
What is Web Design?
Web design involves the planning and arrangement of content on a website so that it can be accessed on the internet. Web design also involves combining aesthetic and functional elements as a way to capture users and create a positive experience.
Web design has many different components, including user interface design (UI design), programming, which includes standard code and unique software, user experience design (UX design), and optimization for search engines.
Web design is an intricate process that requires a skilled professional web designer. A reputable website design firm provides reputable services. They can help create responsive websites that work well on many devices.
Web design companies will assist you in enhancing user experience and increasing conversions by giving you a mobile-friendly website. Website design company NYC, creates a user-friendly environment that meets the needs of the business. A well-designed website can help businesses reach new customers, attract new employees, and improve their reputation.
9 Things To Keep In Mind For Your Web Design
When designing a website, it is important to keep in mind a few key things. Below I will share some keys to look out for to design a great website for your business or personal use.
1. Website Hosting
Any web development process starts with selecting a hosting service. You have a wide range of options of hosting providers, so research each one carefully before choosing one to work with.
Shared hosting and dedicated hosting are the two types of hosting that are most popular. On a single server, numerous websites can be hosted using shared hosting. Each site that uses dedicated hosting has room on a single server.
Both hosting models have their advantages and disadvantages. As an illustration, shared hosting is less expensive than dedicated hosting. However, it restricts the amount of storage you can use. Dedicated hosting, on the other hand, allows you greater control over the resources allotted to each website.
2. Determine Who Your Main Users Are
You'd be shocked at how many internet projects have been finished without a good user profile analysis, even if it might seem obvious why it is important to have it. You must first understand who these visitors are and why they are visiting your site to design a website that caters to their demands.
It's crucial to identify your target user audiences, understand why they visit your website, and think about how to improve it to better suit their needs before getting in touch with a web design firm.
3. Putting A High Focus On Mobile
A website that is not being developed with mobile users in mind might find it challenging to survive because people access websites through their mobiles all the timeshould not be purchased by any company. One of the best ways to prevent the success of your site is to ignore responsiveness, as 51% of all web traffic worldwide comes from mobile devices. As many of your visitors will be using tablets or smartphones to access your site, you should make sure that your design is optimized for how images, text, logos, and other features will appear on smaller screens.
A mobile-first design, sensory design, and adaptive design are all essential when building a website with mobile users in mind. Ask your web development company whether they are familiar with these concepts.
4. Call To Action (CTA) Should Be Included
Nothing hinders a website's functionality more than failing to include a call-to-action (CTA) on each page. A CTA is what? It's a command or query that prompts website users to take an action.
Every page of your website ought to include a CTA, as a general rule. It's also crucial to keep in mind that when you include a CTA on your website, users should be able to click the button right away and carry out the advised action.
Your visitors should be able to click on the term "here" and immediately be transported to the download link. Broken links or difficult CTAs will drive customers away.
5. Choosing The Appropriate Content Management System (CMS)
If your company has had a website for a while, the CMS you are using may be familiar to you. Alternatively, you might be tired of the CMS you've been using and want to try something new. Of course, WordPress is the most well-liked and often used content management system because of how simple it is to use and how completely adaptable it is. However, every organization has particular issues that need to be resolved, thus ultimately, the ideal CMS for your company might not be the best option for someone else's.
We advise investigating each of the top CMS choices, seeking advice from your website design team, and using the knowledge you learn to make an informed choice
6. Branding Your Website
Some companies merely have a website, which serves as the only visible representation of their operations, no more, no less. The brand's image must be taken into account before the website even starts to take shape.
A website shouldn't be created on the fly; instead, you should carefully analyze any pre-existing branding or, in the absence of any, create a brand identity from scratch. Here's where you can truly show off your design skills.
7. Managing Your Finances
Establishing your budget is a necessary step before finalizing your plans for a website redesign; for business owners, this task frequently requires doing a reality check. You should prepare to spend, on average, between $10,000 and $15,000 for a fully customized website project.
If your website project is complicated or has a lot of pages, that amount may go up, and if you choose a template design, it may go down. Naturally, each choice has pros and cons.
If you are unable to complete these activities on your own, you will need to budget for additional services like copywriting and SEO in addition to the website construction itself.
8. Search Engine Optimization (SEO)
The term "search engine optimization" (SEO) refers to methods for enhancing a website's visibility in search results. Making sure your website offers credible information that is pertinent to visitors' searches and contains relevant keywords is part of this process.
9. Web Design Style (UI/UX)
UI stands for user interface, while UX stands for user experience. When designing a website, it is important to think about the user experience. Make sure that the design of your website is easy to use and that all of the navigation is clear. A UI/UX designer can be consulted to design your website.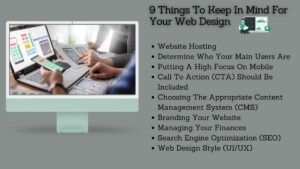 Conclusion
Business owners from various industries can improve their chances of a successful website project by keeping these 9 elements in mind, ensuring that their objectives are addressed and the overall design supports their business goals. All the best!